Booklaunch: Politics of the Mind - Marxism and Mental Distress with Iain Ferguson
Wednesday 21 Mar 2018 7:00pm
SWP Public Meeting
With Iain Ferguson
---
Friends Meeting House
6 Mount St
Manchester
M2 5NS
---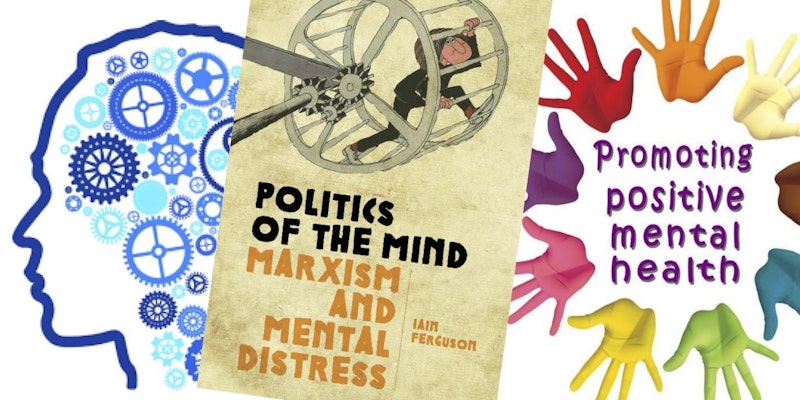 MENTAL DISTRESS has become one of the key "public issues" of the 21st century. According to the World Health Organisation, depression currently affects 350 million people worldwide.
In the launch of his new book Politics of the Mind: Marxism and Mental Distress Iain Ferguson will be speaking in Manchester. Iain looks at the link between the economic and political system under which we live – capitalism – and the enormously high levels of mental distress which we see in the world today.
At this meeting Iain will discuss how we can better understand mental distress using an historical and materialist Marxist approach as well as how new movements over the last few years have shaped responses to mental health issues.
He will ask how things could work differently in a world driven not by the demands of profit but one based on meeting human needs – a world which the Marxist psychoanalyst Erich Fromm called "a sane society".
Come and join the discussion about all these issues – and, crucially, how we can fight for the support and services we need and for a different world. There will be plenty of time for contributions and questions. All welcome.
---
---
---
Event information
---
Wednesday 21 Mar 2018 7:00pm
Add to Calendar
21-03-2018 19:00
21-03-2018 21:00
Europe/London
SWP Public Meeting: Booklaunch: Politics of the Mind - Marxism and Mental Distress with Iain Ferguson
<p><img alt='' class='article_style1' src='https://img.evbuc.com/https%3A%2F%2Fcdn.evbuc.com%2Fimages%2F39518406%2F182872238217%2F1%2Foriginal.jpg?w=800&amp;rect=0%2C28%2C1238%2C619&amp;s=7629b23d93497091772619b1f59df67d' /></p> <p>&nbsp;</p> <p><span>MENTAL DISTRESS has become one of the key &ldquo;public issues&rdquo; of the 21st century. According to the World Health Organisation, depression currently affects 350 million people worldwide.</span></p> <p>In the launch of his new book Politics of the Mind: Marxism and Mental Distress Iain Ferguson will be speaking in Manchester. Iain looks at the link between the economic and political system under which we live &ndash; capitalism &ndash; and the enormously high levels of mental distress which we see in the world today.</p> <p>At this meeting Iain will discuss how we can better understand mental distress using an historical and materialist Marxist approach as well as how new movements over the last few years have shaped responses to mental health issues.</p> <p>He will ask how things could work differently in a world driven not by the demands of profit but one based on meeting human needs &ndash; a world which the Marxist psychoanalyst Erich Fromm called &ldquo;a sane society&rdquo;.</p> <p>Come and join the discussion about all these issues &ndash; and, crucially, how we can fight for the support and services we need and for a different world. There will be plenty of time for contributions and questions. All welcome.</p>
Friends Meeting House, 6 Mount St, M2 5NS
SWP Public Meeting
DD/MM/YYYY
---
Greater Manchester
---
Friends Meeting House
6 Mount St
Manchester
M2 5NS
---
Share this event
---
Share on Facebook
Share on Twitter
Share on Pinterest
Share on Google+